Teton County
48°
Weather from OpenWeatherMap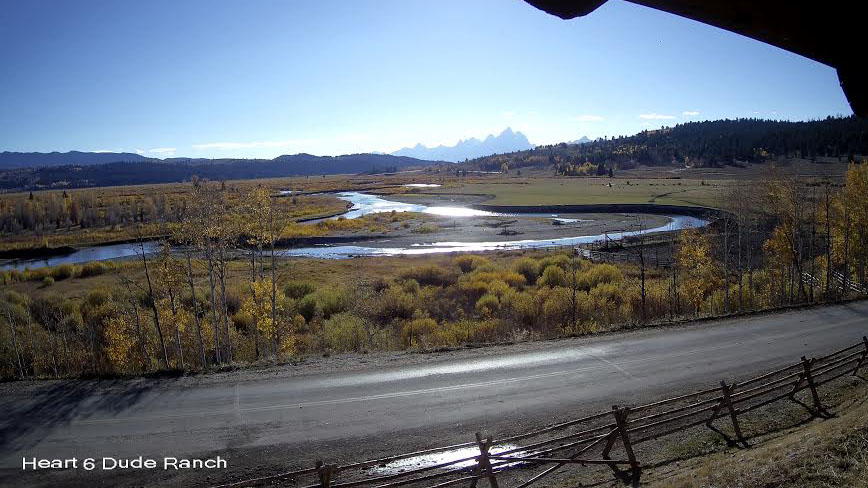 Teton County
48°
Weather from OpenWeatherMap
The Buffalo Fork web camera in Moran, Wyoming looking south-west featuring the Grand Tetons in Grand Teton National Park, the Buffalo River Fork and horse pasture.
Moran is a typical small town with only a post office and elementary school. Serving as the east entrance to the Grand Teton National Park the town of Moran is also known as Moran Junction as it serves as the main passageway through central Wyoming and the Grand Teton National Park. Visitors and locals alike utilize Moran as a base for nearby hiking trails.
The Teton Range
The Teton Range provides the perfect backdrop as many species of wildlife frequent the area and may come into range of the web cam. In the warm summer months, the horses of the local ranch are turned out to pasture and gathered daily as trail rides commence with ranch guests.
With peaks rising as high as 7,000 feet from the valley floor, the Teton Range serves as the centerpiece of the Grand Teton National Park. The highest peak is the Grand Teton, which stands at 13,770 feet.
The Buffalo River Fork
The Buffalo Fork of the Snake River offers some of Wyoming's best fishing as it is the highest drainage within the Jackson Hole area. In addition, it is known for its scenic canoe floating, and several campgrounds are also in the nearby vicinity. Located northeast of Jackson Hole, Wyoming the Buffalo Fork of the Snake River is accessed just east of the small town of Moran. Flowing from the Continental Divide at Togwotee Pass down to the confluence with the Snake River, the Buffalo Fork is a tributary to the Snake River. The North Fork, South Fork, and the Soda Fork are all nearby and encompass 55 miles of river. Upstream lies Turpin Meadows near the Grand Teton National Park.
Cutthroat trout commonly swim from the main fork of the Snake River to the Buffalo Fork, which is just one of the reasons that make the Buffalo Fork is one of Wyoming's best locations for fishing. Not to mention the extremely clear waters that drain to the Teton Wilderness and the river itself lying in over 80 percent wilderness.
Winter brings skiing and snowmobiling to the Jackson Hole area with three convenient ski resorts nearby. Summertime has plenty in store with fishing, hiking and climbing, biking and whitewater rafting.